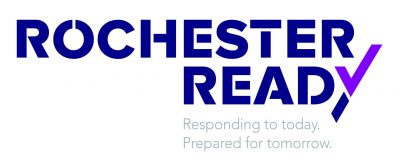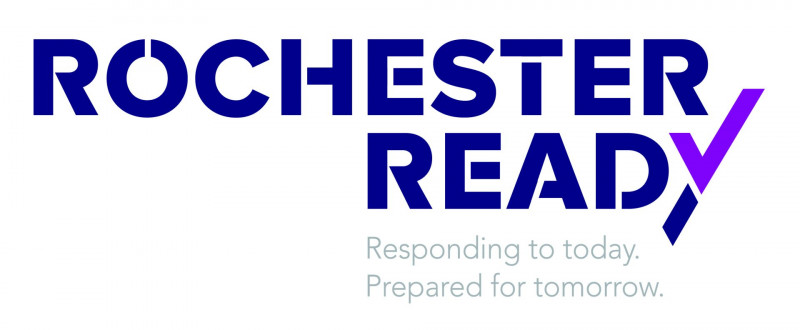 Rochester Ready is an initiative to ensure a safe and resilient recovery for Rochester, Minnesota.
Rochester Ready partners are the City of Rochester, Destination Medical Center Economic Development Agency, Experience Rochester, Mayo Clinic, Olmsted County and the Rochester Area Chamber of Commerce.
The launch program for Rochester Ready is a hospitality safety pledge for restaurants, retailers and lodging properties called "Rochester Ready Safe." Businesses that sign the pledge are committing to implementing a specific set of measures to provide a safe experience. The pledge aligns with preparedness plans required by the State of Minnesota but does ask that businesses signing the pledge institute a requirement that all employees wear nonmedical cloth face coverings and guests are encouraged to wear face coverings.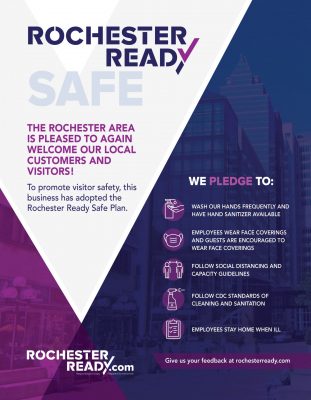 The goal of this program is to instill confidence in residents, visitors and patients so they feel safe as they shop, dine, stay and play in Rochester.
"It is important that Rochester businesses, residents, and visitors develop a shared commitment to minimizing the spread of COVID-19," said Rochester Mayor Kim Norton. "Businesses that sign the Rochester Ready Pledge demonstrate their desire to provide a safe environment for residents and visitors to our community."
"We are excited to be a part of the new Rochester Ready Safe program. Our priority is and will always be for the safety of our guests and team members," said Myron and Michelle
Salz, owners of Centerstone Plaza Hotel.  "Over the past few months, the Centerstone team has developed additional procedures for safety that complement this initiative."
Rochester Ready will provide branded materials including posters (in multiple languages) and window clings for businesses taking the safety pledge, and they will be featured on a dedicated website – rochesterready.com. Mayo Clinic and other organizations will make this information available to patients and visitors to convey that Rochester is ready to serve them safely.  A broader promotional campaign will support this effort.
The Rochester Ready initiative will evolve as the community transitions from reopening through recovery and long-term resiliency.