At the recent second annual Rochester Area Values Entrepreneurship (RAVE) ev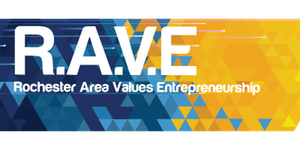 ent, local entrepreneurs were recognized. Clearly the spirit of entrepreneurship is rising in the region, and that's a big plus for the DMC mission to attract people, investment opportunities, and jobs to America's City for Health.
RAVE was hosted by the Rochester Area Economic Development, Inc. (RAEDI), Journey to Growth, and the 504 Corporation marking the second year of celebrating the accomplishments of local entrepreneurs and concluding a third year of Global Entrepreneurship Week Rochester. "It has been incredibly exciting and rewarding to recognize the immense talent we have in our communities, and we are grateful to businesses such as Home Federal Savings Bank and Mayo Clinic Ventures for their support of this important event," says Gary Smith, president of RAEDI.
This year's honorees included:
The event also featured an introduction to a new entrepreneurial effort rooted in Rochester called REHIVE – or Rochester area Entrepreneurial Hive. REHIVE, whose mission is to connect emerging and established entrepreneurs with local resources, organizations, and each other, is a digital hub that operates through a website located at www.REHIVE.mn. REHIVE, founded by Rachel Gabriel Olson and Chris Olson, is backed by many organizations with similar missions, such as Journey to Growth, Mayo Clinic Ventures, the Small Business Development Center, RAEDI, the Rochester Area Chamber of Commerce, Community and Economic Development Associates, Winona State University – Rochester, and DMC.
"The thoughtful layout and design geared towards helping entrepreneurs was so impressive; we agreed the perfect venue to debut the online resource would be at RAVE," says Heather Holmes, VP of Marketing for RAEDI.
REHIVE, like DMC, wants businesses and entrepreneurs to succeed in Rochester. "REHIVE is a small (and digital) part of an infrastructure that is being developed to support growth in our community," says Rachel, "and in that way, we align well with DMC."