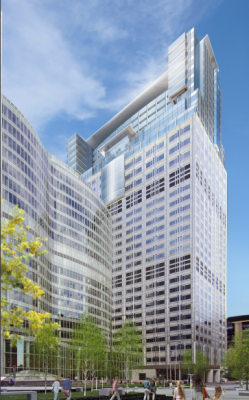 Mayo Clinic has announced plans to collaborate with Singapore-based real estate developer Pontiac Land Group to expand the clinic's Gonda Building. The collaboration will advance Mayo Clinic's expansion plans by nearly a decade. The 11-floor vertical expansion will include four floors dedicated to new clinical space and seven floors that will house a premier hotel.
"The expansion of the Gonda Building on Mayo Clinic's downtown Rochester campus to accommodate new clinical space and a new hotel are wonderful additions to Destination Medical Center's Heart of the City," says Destination Medical Center Economic Development Agency Executive Director Lisa Clarke. "This unique collaboration – and Pontiac Land Group investing here – also continues to prove that Rochester is an attractive market for investors and developers from around the globe."
While details are still being finalized, preliminary plans indicate construction will begin in late 2019 or early 2020.
Click here to learn more about this exciting new downtown Rochester, Minnesota development.