For one week each January, tens of thousands of innovators, tech pioneers, and business leaders from around the world gather in Las Vegas for CES 2018* to introduce their next-generation ideas to the global marketplace.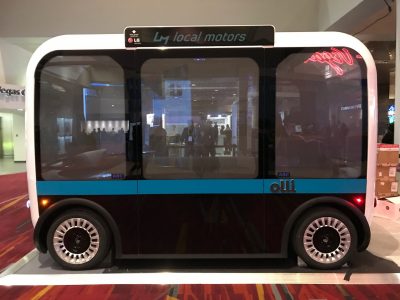 This year, #AccessibleOlli made the journey to Las Vegas. If you're not yet acquainted with Olli, it's the future of autonomous public transportation. The electric, self-driving shuttle holds up to 10 people and is 90-percent 3D-printed. Olli offers transportation solutions for individuals with mobility limitations, cognitive disorders, and vision and hearing impairments.
Olli was formed as the result of a collaboration among IBM, Local Motors, the City of Rochester MN, and over a dozen other partners. With IBM's Internet of Things (IoT) and Watson on-board, Olli takes advantages of the latest in innovation technology to create the world's "friendliest mobility solution" by acquiring data through sensors to better understand rider's needs.
As America's City for Health evolves, City and DMC leaders are exploring innovative approaches to transportation solutions. "Improving accessibility and universal access for everyone is a priority for a destination medical center like Rochester," says Patrick Seeb, director of economic development and placemaking for the DMC Economic Development Agency.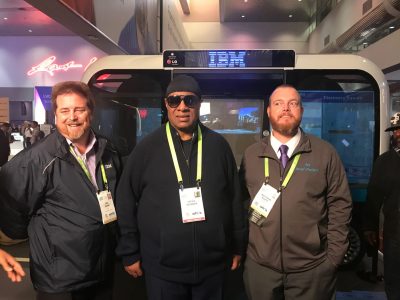 Seeb joined Olli's creators at CES 2018 to learn more about the transportation option and explore ways DMC might help test the concept. He heard firsthand from people with mobility challenges what a difference access to Olli would make for them. Music legend Stevie Wonder also visited the booth, stating "We all have ability. The difference is in how we use it."
CES 2018 also provided an opportunity to showcase the city of Rochester to attendees, according to Seeb. Prior to the event, DMC provided the team from Local Motors with video images of Rochester which were used during the Olli Experience. "Visitors from across the globe essentially took a virtual bus ride around Rochester, Minnesota at the same time they were learning about Olli," says Seeb.
Click here to learn more about the work being done to ensure safe, convenient transportation is available to everyone in Rochester.
*formerly called the International Consumer Electronics Show (International CES®)