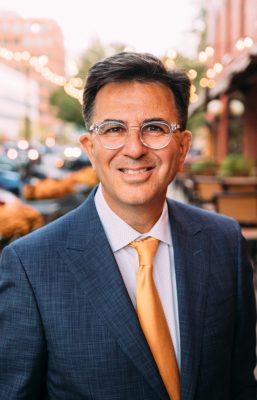 (Rochester, Minn.) January 4, 2021 – The largest public-private economic development partnership in Minnesota history marks a significant milestone today, when Patrick Seeb officially steps into the role of executive director of the Destination Medical Center Economic Development Agency (DMC EDA), following the retirement of Lisa Clarke.
Seeb is a veteran of economic development. Before taking the DMC helm, he served as the organization's senior director of economic development and placemaking.
"As we begin 2021, I'm honored to take on this new role," said Seeb. "We have accomplished much in the first phase of development thanks to the power of collaboration. We have learned to pivot over the past year, and as a resilient community, we are poised to recover from the COVID-19 pandemic from a position of strength."
Prior to joining DMC, Seeb served for 20 years as executive director of the Saint Paul Riverfront Corporation, responsible for a multi-billion-dollar transformation of the city's downtown. During that time, he also served as president of Grand Excursion, Inc., a four state, four-hundred mile, fifty-city riverfront planning, education, and promotional program.
Seeb serves on the boards of the Rochester Area Economic Development, Inc. (RAEDI) and the Rochester Downtown Alliance. He is a 2020 cohort of the Bloomberg Harvard City Leadership Initiative. In 2019, he was appointed by the Commissioner of the Minnesota Department of Transportation (MNDOT) to serve as a member of MNDOT's sustainable transportation policy advisory committee and served as an affiliate practitioner for the Minnesota Design Center at the University of Minnesota. Seeb was recognized in 2018 by Twin Cities Business magazine as one of its "100 People to Know" in Minnesota.