On Dec. 16, 2013, a story in the Rochester Post Bulletin captures the spirit of DMC Ambassadors, what they are doing and how they are helping build enthusiasm and gather input for DMC.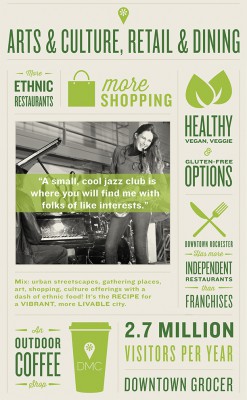 This group of about 100 people meet twice a month to brainstorm ideas and volunteer for activities that keep DMC in the spotlight. Reporter Jeff Hansel's story includes some of the brainstorming from last week's meeting about ways this group is considering to build awareness.
Writes Hansel: "Grand dreams can be as much a part of the brainstorming process as simple fixes. For example, one of the ambassadors suggested, with an air of jest, that they should suggest closing off Broadway in downtown Rochester to make it like Nicolette Mall in Minneapolis as a grandiose idea to convince people to attend gatherings.
"But another, simpler issue is what to do with DMC T-shirts. One of the ambassadors suggested borrowing the Honkers' T-shirt cannon and shooting the T-shirts at Ice Hawks games."
Join the DMC ambassadors. All are welcome.