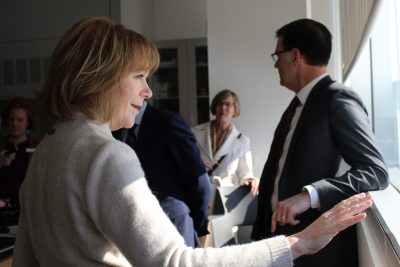 U.S. Senator Tina Smith recently stopped in Rochester to tour One Discovery Square, the healthcare innovation campus that opened in 2019.
Senator Smith served as Chair of the Destination Medical Center Corporation Board (DMCC) when it approved the construction of One Discovery Square in 2017, and she participated in the building's groundbreaking later that year.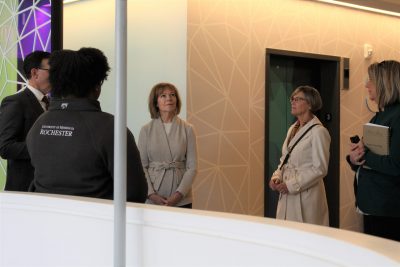 "Having been on the founding team of Destination Medical Center, it's really exciting to see this core idea that Rochester can be the center for healthcare and what contributions that can make, not only to people who come to Mayo Clinic but also to the entire community," Smith said. "I can see it happening here. It's really great."
During the tour, led by DMC, Senator Smith saw firsthand how the building is fulfilling its mission. She met employees from the building's tenants, including Epic and Mayo Clinic. She also learned about other developments happening throughout the Discovery Square subdistrict, including new businesses, housing, and childcare options as well as the next phase of Discovery Square, Discovery Square Two, which the DMCC Board approved on February 6.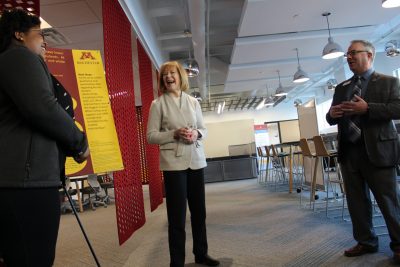 She also met student representatives from University of Minnesota Rochester and toured the university's spaces in the building, including a collaborative space on the first floor and a classroom and wet lab on the third floor. She learned how the campus' presence inside One Discovery Square is benefitting both the students and the professionals who spend time in the building.
"This is exactly the kind of partnership between education and employers and organizations like Mayo Clinic that we need to build more of in the future," Smith said.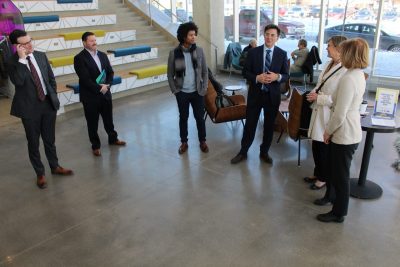 Senator Smith's visit highlights DMC's success as a model of economic development for the state and the growing ecosystem of innovation, collaboration and entrepreneurship in Rochester.
"It was an honor hosting Senator Smith in Rochester," said Chris Schad, DMC EDA director of business development for Discovery Square. "As the former Chair of the DMCC board, she played a vital role in the initial years of Destination Medical Center. Her visit provided an opportunity to look back on the progress we've seen not only at One Discovery Square, but throughout the DMC district."