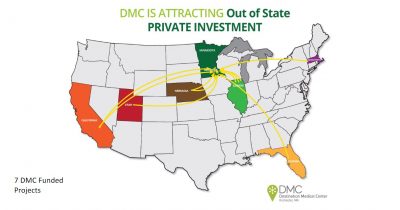 Destination Medical Center (DMC) is proving to be a magnet for private investment from across the country. In the case of seven DMC-supported projects, capital has come from Minnesota, California, Utah, Nebraska, Illinois, Florida and Massachusetts.
"One of our jobs is to drive investment and talent to Rochester and the state of Minnesota," said Lisa Clarke, DMC Economic Development Agency executive director. "This shows that it is actually happening. We want people to invest here and stay here in Minnesota."
The seven DMC projects tracked include One Discovery Square, The Maven on Broadway, Hilton Rochester Mayo Clinic Area, the Ryan Companies Heart of the City project, Berkman Apartments, Hyatt House and Hotel Indigo.
The DMC Corporation (DMCC) Board reviewed these findings at its February 6, 2020 meeting and members agreed that the trend is encouraging.
"Those of us from the Twin Cities, it took years to convince people to come to Minneapolis and St. Paul to invest, and it takes time," said Jim Campbell, DMCC Board Member and former CEO of Wells Fargo Minnesota. "This is really critical because we are developing credibility and pools of capital across the United States, and then hopefully across the world that will come to Rochester to help accomplish our goals."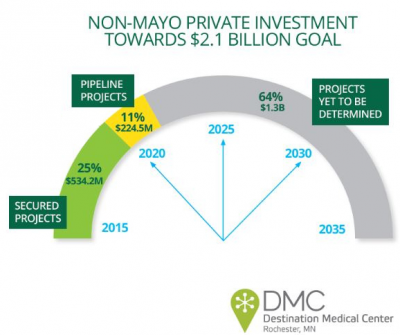 After the first five years of its 20-year implementation, DMC is at approximately 25 percent of its goal to secure $2.1 billion in non-Mayo Clinic private investment, with $534.2 million dollars already invested in Rochester. Another $224.5 million, or 11 percent of the total goal, is secured in future projects.
"These projects in downtown Rochester, Minnesota are attracting resources that wouldn't otherwise be here," Clarke said. "That investment is helping to create new jobs and build a better community."