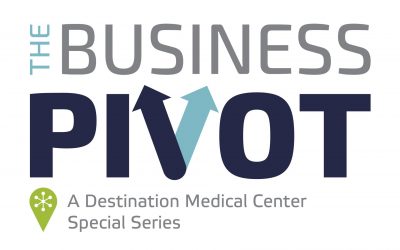 The Business Pivot, a blog series from Destination Medical Center (DMC), features local small businesses that are pivoting not just to survive, but to thrive in the current economic environment. These businesses are helping Southeast Minnesota continue to access products and services while also making a difference in the community.
Laura Elwood, Founder and Owner
DMC: What challenges are you facing during the COVID-19 pandemic?
Elwood: Passengers and drivers alike are feeling cautious since COVID-19 came to our shores, and it is my responsibility to help soothe those fears by making safety a part of every minute of our operations. People come to this city because they know they are getting world class healthcare, and it is essential that their travels to and from that healthcare keep up the standard of care. In the early stages, procuring PPE and solid knowledge was difficult. Thanks to Mayo Clinic's clear messaging and a ramping up of production, the challenge now is how to best predict ridership. Transportation is essential to all guests of Rochester; we want to be there when people need us, so monitoring signs of future demand is high on my priority list. Learning to build, pace, and pivot simultaneously is a challenge, but learning this skill is going to be useful long after COVID-19 is handled. As demand for rides continues to increase at an incredible pace, I am already finding new uses for this skill set.
DMC: How is your business responding to those challenges and innovating?
Elwood: We carry masks for passengers if requested and our drivers have a multilayered process, including temperature checks, mask washes, and regular vehicle sanitization before, after shifts and between each ride.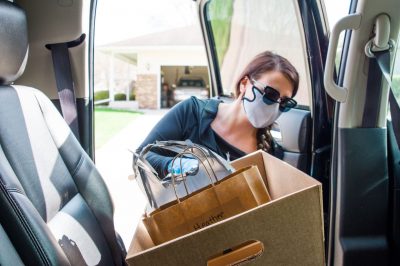 In response to the shutdown, Chamberlain partnered with Bleu Duck, Neon Green Studio, Little Thistle Brewing, Choochoo-Ca-Chew, Knotty Woodpecker, and Canvas and Chardonnay. During quarantine, we curated themed packages that customers could order for delivery. We piloted a date night package, a family night package, and a 'treat yourself.' Our partners are the heartbeat of our network, and those relationships are strong. These packages are ever-evolving; I see them as a way to bring our partnerships with local businesses to life.
A handful of us have even coordinated our efforts to make sure a portion of the proceeds make it to a local non-profit, Project Legacy.
DMC: As you navigate uncertainty, what inspires you?
Elwood: My staff's dedication inspires me daily. Their full commitment to safety habits and outstanding hospitality is what gives Chamberlain a strong, competent backbone. I'm also inspired by the recent example set by New Zealand. It shows that the pandemic can be defeated with community spirit and strict adherence to safety measures. I've also found myself looking up to the teams at Mayo Clinic.
Chamberlain Concierge is the recipient of a Keep It Local, COVID-19 Innovators Grant.
Naura Anderson, Owner
DMC: What challenges are you facing during the COVID-19 pandemic?
Anderson: Our most significant challenge is being unable to operate in our space as it was originally designed to be used, both due to safety concerns and the closing of the Castle's second floor. Before COVID-19, we operated as a drop-in, hands-on, creative space with many shared tools, materials, and workstations. We regularly hosted kids' birthday parties, girls' nights out, toddler play groups, after-school activities for creative teens, and families looking for a way to spend quality time together at our art bar. Visitors were invited to create an art or craft project of their choosing using our supplies, and we handled the clean-up. It was a very hands-on operation.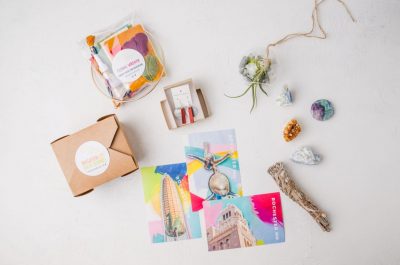 In early March, as we learned more about the virus reaching our community, we realized this was not a safe practice and had to up our standards for safety. This meant sanitizing all shared tools between uses, washing aprons after each use (vs. weekly), restricting unlimited access to some materials (customers could no longer "grab what they needed" from the art bar), and ultimately closing down the art bar completely – offering only prepackaged kits for sale. The Castle closed its doors to the public on March 15, and we had to make another shift.
Although retail businesses have been allowed to reopen at a limited occupancy, the unique nature of our shared space at the Castle brings on additional risks. The open community space of the Castle Commons makes it difficult to control traffic flow and activity within that space, and foot traffic is unpredictable. Many people don't yet feel safe sharing indoor spaces, and construction on Broadway has made it challenging for people to get to us.
DMC: How is your business responding to those challenges and innovating?
Anderson: We shifted to an online storefront and expanded our selection of art kits for sale, added a monthly kit subscription option, and created a virtual birthday party service. We offer contact-free curbside pickup, local delivery, and shipping to anywhere in the U.S. Thanks to a Keep it Local grant, we now offer complimentary contact-free delivery to all Rochester ZIP codes in partnership with Chamberlain Concierge & Lifestyle Management.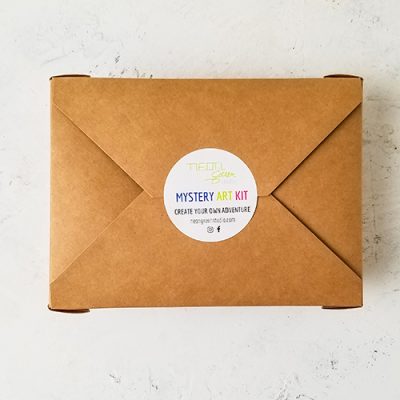 At a time when many art festivals and shows have been canceled, we feel it is important to support our fellow artists in the community too. We have collected art from several local artists and are selling Mystery Art packages for $25 each with 100% of the sale going directly to the artist. The buyer receives an original piece of art, usually around 5×7", and unwrapping the surprise is half the fun.
During the stay-at-home order, we partnered with Chamberlain, Bleu Duck, Little Thistle, and Choochoo-ca-Chew to offer delivery of a Date Night In or Family Night In package. This included food, craft beer, and an art kit four couples or families – delivered safely to your doorstep on Saturday nights. We then added a Treat Yourself package that included art kits, our handmade bath bombs, and fun items from our friends at Canvas & Chardonnay and Knotty Woodpecker. Partnering with these small business owners has helped all of us reach new audiences and created a unique experience for the community during a time when nothing feels normal anymore.
Birthday parties were a large part of our business in the studio, so we have adapted that model too. In collaboration with Desserts by Danna, we now offer an Arty Party kit – complete with an art activity, a "paintable" cookie, and a party hat for each friend. Party guests can meet in person or on a video call and share in a group craft activity and a special treat – keeping friends connected even though they are apart.
In addition, our art kits are now available as an add-on option with take-out orders from Cameo and Little Thistle Brewing, and we're expanding our footprint to other businesses in the community. We have hosted several virtual workshops, including a session for the Young Artists Young Authors conference in May.
We are preparing to reopen the art bar in the coming weeks, for appointment-only crafting and small private parties with social distancing in place and extensive cleaning between each session. I can't wait to see friendly faces in our studio once again!
DMC: As you navigate uncertainty, what inspires you?
Anderson: It is heartwarming to see our community coming together to support local businesses – with their dollars, and their voices. Not only are people buying our products, they are promoting us to their friends and families; that support means more than anything. The unique collaborations that have formed in response to the pandemic have inspired me to think more creatively and explore opportunities that we may not have previously considered. Partnering with fellow local business owners has been the key to our survival, and that's something I look to do even more of as we grow. Our business model has shifted drastically, but our capacity to inspire creativity has only increased. During times of hardship and uncertainty, art has the power to keep us grounded and connected, and to play a small part in that is something I am truly grateful for.
Neon Green is the recipient of a Keep It Local, COVID-19 Innovators Grant.