Festival of Trees Nov. 26-Dec. 1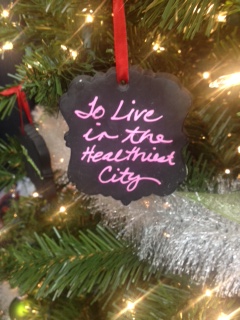 Visions of Rochester, past and future, adorn the Christmas tree decorated by DMC ambassadors on display at the Rochester Civic Center as part of the 28th Hiawatha Homes Foundation's Festival of Trees.
DMC ambassadors and Mayo Clinic employees Laura Zacharda-Jones and Tia Calvert designed the décor for the 8-foot tree. It's decked out with white lights, green and white glass ornaments, photos showcasing Rochester's past and mini chalkboard ornaments highlighting ideas for Rochester's future.
"Our vision is to showcase Rochester throughout the years ? what it has been and what it could be," says Zacharda-Jones, who has been a DMC ambassador since last spring.
She got involved out of curiosity and gratitude. "I kept hearing information on the bus (I commute from Kasson) and it didn't match with what I'd been reading. I got involved to know the facts," she says.
And, there's a long family history with Mayo Clinic. Her mother came to Mayo Clinic from New Jersey to seek treatment in 1968.  Mayo Clinic doctors identified a disease that has impacted 10 of her mother's 13 siblings and may affect future generations.  "I try to imagine what Rochester was like then," says Zarcharda-Jones. "I'm happy to be involved, even if in a very small way, in helping make sure Rochester continues to be the destination for people like my mom and her family ? to find solutions and healing."
The Festival of Trees is a fundraiser for Hiawatha Homes, which provides residential, in-home, and community-based choices for people with disabilities.
Watch a video of decorations being made.
Festival of Trees hours
Nov. 27-Nov. 30: 11 a.m. to 7 p.m.
Dec. 1: 11 a.m. to 4 p.m.
More information: Hiawatha Homes Festival of Trees