As growth and development continue throughout the Rochester area, local leaders are making housing affordability a top priority for 2018.
A new collaborative community initiative was announced on Thursday, December 21, 2017 at a press conference at the Rochester Area Foundation (RAF) where more than 40 community leaders and residents came together to learn more about this important effort.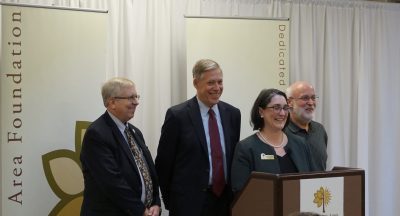 The Coalition for Rochester Area Housing will bring together public and private sector organizations to acquire, invest, manage, and distribute funds and resources to create and preserve affordable and workforce-priced housing. The group will be led by the Rochester Area Foundation and supported by founding partners from the City of Rochester, Olmsted County, and Mayo Clinic. The group will rely on the community to bring forward ideas and proposals and will leverage local expertise to identify and address gaps in today's housing market and use resources efficiently.
Housing affordability concerns are not unique to Rochester. Minnesota Governor Mark Dayton recently created the Governor's Task Force on Housing which will bring together experts and advocates from around the state to address the issue. Olmsted County Commissioner Sheila Kiscaden and Mike Paradise, president of Rochester-based Bigelow Homes, are among the 15 core team members helping to identify solutions to the statewide housing challenge.
Locally, the Rochester Area Foundation has launched a fundraising campaign with a goal of $6 million to help support the work that needs to be done. "The commitment has never been stronger than it is today," said Jennifer Woodford, president of the Rochester Area Foundation. "Together, we have the capacity and resources to develop a broad and sustainable housing market that works for more people, today and into the future."
Jeff Bolton, Mayo Clinic's chief administrative officer and chair of the Destination Medical Center Economic Development Agency Board of Directors, announced that Mayo Clinic will contribute $4 million over the next two years toward the goal. "A vibrant, growing community brings changing community needs," Bolton says. "We are happy to stand here today with the shared goal of bringing lasting solutions for our neighbors who are struggling to find affordable housing."
Coalition funds will be used to:
Identify and prioritize opportunities for collective action that address and advance regional affordable workforce housing goals;
Develop projects that test the viability and feasibility of innovative housing solutions and options;
Distribute resources to create or preserve affordable and workforce priced housing in the Rochester area in an efficient manner;
Ensure ongoing participation and involvement of major stakeholders and funders, and;
Encourage ongoing fundraising from the community.
Destination Medical Center supports the Coalition for Rochester Area Housing and its efforts to support the creation and preservation of workforce housing in Rochester.
"Access to affordable housing is an important issue in Rochester and across the state," says DMC Economic Development Agency Executive Director Lisa Clarke. "We look forward to collaborating with this newly established coalition to ensure viable options exist for everyone."
For more information on the Coalition's structure and purpose, see the Founding Charter for the Coalition for Rochester Area Housing here.