Downtown development received top billing at the most recent meeting of the Destination Medical Center (DMC) Corporation Board of Directors.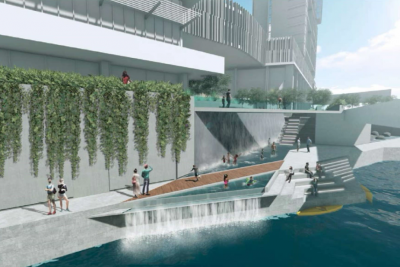 Abu Dhabi-based Bloom Properties gave an update on a mixed-use project that will be anchored in the Downtown Waterfront sub-district. The $180-200 million project will include residential, hospitality, and retail space, as well as space for outdoor concerts and ice skating.
Board member and former Minneapolis Mayor R.T. Rybak called the proposal "a home run," saying it meets a lot of the DMC's goals for housing, retail, and community spaces.
Board members were also given details on the Discovery Square sub-district, which will be Rochester's hub for medical and biotechnology innovators. The area will include co-working spaces, business incubators, and social and business networking spaces.
"What we are trying to do right now is to create the ecosystem to prepare our community for a new brand," said DMC Economic Development Agency Executive Director Lisa Clarke. "Our team, along with many partners in the community, is doing just that. We believe Discovery Square will be a key differentiator for Rochester and the state."
Part of the DMC's strategy to boost Discovery Square will come early next month when DMC will travel to the BIO International Conference in San Francisco, a yearly gathering of medical innovators and businesses from around the world. There, Clarke said DMC will be "laser focused" on meeting with businesses and working to connect them with the Mayo Clinic and Rochester.
Other updates included:
A grant from the McKnight Foundation, located in Minneapolis, to fund a sustainability staffer for the DMC Economic Development Agency;
Public engagement in designing the Saint Marys Place sub-district;
Transportation planning studies for several areas of the DMC plan;
A number of housing, business, hotel, and retail developments including The Lofts at Mayo Park, Buckeye Flats, the Conley-Maas Building, and the Broadway at Center building;
The firms who were selected to give full presentations on the Heart of the City design; and
The next steps in DMC's marketing plan.