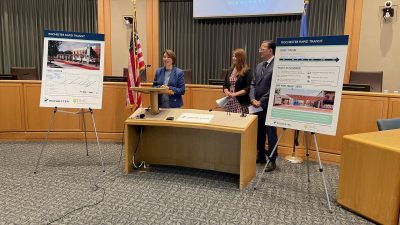 "My announcement today is that all lights are green when it comes to this important rapid transit bus project for the city of Rochester," said U.S. Senator Amy Klobuchar last Friday at a press conference at the Rochester Government Center.
Senator Klobuchar was joined by Rochester City Council President Brooke Carlson and Destination Medical Center Economic Development Agency (DMC EDA) Executive Director Patrick Seeb.
She highlighted the project's potential impact to the city's fabric of caregiving, as well as the high-level federal interest in it. In May of 2021 it was announced that the Federal Transit Administration (FTA) had rated the project as "Medium-High." Her former presidential debate stage mate, U.S. Transportation Secretary Pete Buttigieg, included $56 million for the project in his proposed $2.5 billion budget for 2022. These "breadcrumbs," as she called them Friday, are why the senator sees green lights.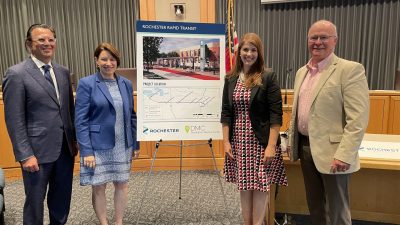 The proposed federal funding would pay for half of the 2.6 mile bus rapid transit project. Once implemented, the project will cut congestion and spur connection to essential elements of Rochester life. Its placement in the corridor connecting downtown Rochester, the Mayo Civic Center, Mayo Clinic campuses, and the Rochester-Olmsted Government Center would help stymie the amount of traffic there. One of the city's most heavily used corridors, the location sees 21,800 vehicles and 13,000 transit riders per day.
"The idea behind Rapid Transit is to make it comfortable, safe, convenient, reliable, and fast for people who need to get around our downtown and through our community," said Seeb. "The 30,000 downtown workers; the people who live nearby within walking distance; the patients and families who are traveling from around the world and expect a destination kind of experience – that's what this rapid transit initiative is all about. There is nothing more important about Destination Medical Center than the common ground."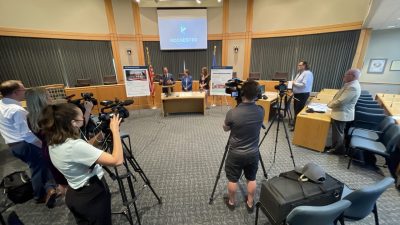 "We know the sky's the limit when it comes to the future here in Rochester," said Sen. Klobuchar. "We're not only focused on the future when it comes to air travel, but also right here on the front line with how we get to work."
The final decision will be made next year.