Presented with an opportunity to help unravel the mystery of the devastating heart disease hypoplastic left heart syndrome (HLHS), Mayo Clinic's IMPACT program recently attracted more than 130 college students and faculty to Rochester, Minnesota to present their unique solutions to this critical healthcare challenge.
Making an impact on more than medicine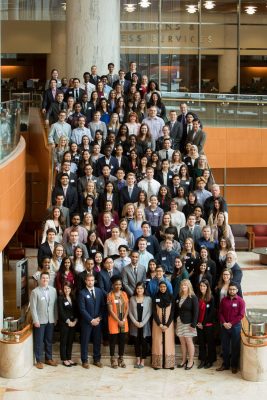 IMPACT (Innovative Minds Partnering to Advance Curative Therapies) is a unique program developed by Mayo Clinic researchers and designed by Dr. Katie Campbell during her graduate studies at Mayo Clinic College of Medicine and Science. Each year, real-world challenge questions are presented to teams of undergraduate students from 30 different state, community, and private universities and colleges.
Under the guidance of a faculty mentor, each team of students spends months reviewing scientific literature and developing a hypothesis to the challenge. Then, in early March, these teams travel to Rochester to present their findings and engage with other students and faculty who participated in the program. During the process, students address real-world healthcare challenges, initiate research, and derive a hypothesis. Then they are asked to explain and defend that hypothesis to other scientists. IMPACT offers aspiring scientists an extraordinary and unparalleled learning experience.
Around 1,000 babies are born with HLHS in the U.S. each year. Children born with HLHS must undergo a series of open-heart surgeries, typically before the age of five, and many of these children may require a heart transplant. The Todd and Karen Wanek Family Program for Hypoplastic Left Heart Syndrome at Mayo Clinic focuses on delaying or even preventing heart failure for people with HLHS.
Addressing real-world challenges together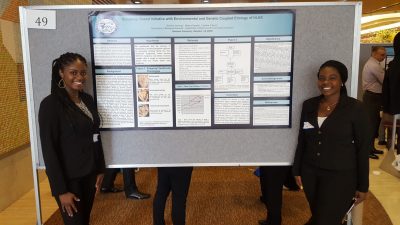 Now in its fifth year, the IMPACT program is a unique way to crowdsource insights into medical enigmas such as HLHS by harnessing the energy and intellect of college students.
"By bringing smart young people into the real-world challenges of healthcare and putting them alongside mentors in a collegial yet competitive setting, they emerge that much better prepared for the next step in their career," says Dr. Campbell.
For students like Brianne and Maissa from Hampton University in Virginia, their visit to Rochester replaced a traditional college spring break. While many of their friends were enjoying the sun in a warmer climate, these two pioneers came to Rochester – America's City for Health – to work toward solutions to a serious healthcare problem. "This is something I will never regret. I will always remember this day," Brianne says.
Dr. Eric Lewallen, who mentored Brianne, Maissa, and three other IMPACT participants from Hampton University, offered a different perspective. "I see this opportunity as a way for my students to witness how high the bar has been set by other college students with similar career aspirations," he explains.
Destination Medical Center's EDA Executive Director Lisa Clarke says programs like IMPACT represent an effective way to attract the workforce of the future. "Some of these students will go on to graduate school or medical school," notes Clarke, "while others will enter into the workforce with businesses operating in places like Destination Medical Center's Discovery Square."