Neighbors from across Rochester united in the Kutzky Park neighborhood this weekend for the second year of Porchfest, an event that partners local musicians with area homeowners who offer up their porches, decks, and lawns for the artists to perform.
Rochester's inaugural Porchfest took place last fall and attracted nearly 300 attendees. This year's event drew even greater crowds, with initial estimates at over 400, according to event organizer and Kutzky Park Neighborhood Association president, Jesse Welsh.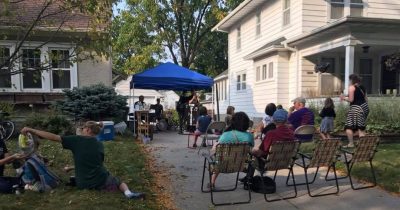 Fifteen musicians played at thirteen homes throughout the afternoon, and Welsh said some homeowners went above and beyond to draw in friends and neighbors. One couple had just moved into Kutzky Park less than six months ago, she says, but they loved the idea so much they took it the extra mile. "In the short time they had to plan, the couple found their own musician to perform, sold artwork in their yard, and brought in both a food truck and a woman selling cupcakes," Welsh says. "And they already said they can't wait to do it again next year."
For this year's event, Porchfest organizers also closed off a portion of 12th Avenue and brought to life a temporary "plaza" on the street with music from the Jive Mill and food and beverages from Forager Brewing Company and other area food trucks.
This plaza also offered space where community members could learn more about the future of the St. Marys Place sub-district and offer insights.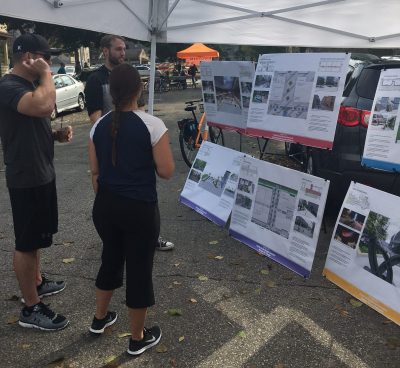 According to Andy Masterpole, an urban designer with SEH and one of the leads on the public realm planning team for St. Marys Place, Porchfest provided a forum for many people to hear about the public realm plans for the first time. "Everyone seemed to be very supportive of the effort and the ideas presented," he says. "They were especially interested in how and when the ideas would be implemented."
Welsh hopes to see some visible progress in the neighborhood before next year's event. Specifically, Welsh wants to see more wayfinding banners and signage in the area by next summer. "The planners are doing a phenomenal job of listening to what stakeholders want. We need to keep that momentum going."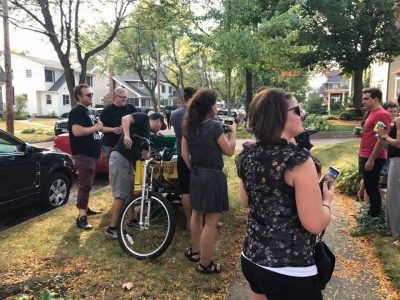 Patrick Seeb, DMC EDA's director of economic development and placemaking, says next steps for the St. Marys Place public realm planning team include a presentation to the City Council at its October 2, 2017 Committee of the Whole meeting. "The work we're doing will influence the 2nd Street redesign project, the transportation planning process, and future private development proposals," he explains, underscoring its importance. "It may also help shape the city's 2018 Capital Improvements Program." The group will also come before the DMC Corporation board in November
Learn more about the plans for St. Marys Place on the DMC website.