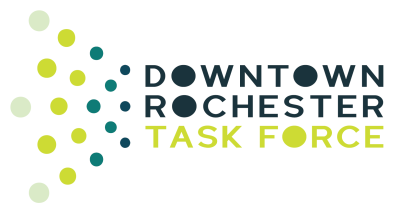 Rochester, Minn. – Following work sessions in March, the Downtown Rochester Task Force is announcing four major themes heard from the downtown community in response to the long-term impacts of the COVID-19 pandemic on downtown Rochester. 
The Downtown Rochester Task Force invited the community and downtown businesses to participate in one of four work sessions to share specific challenges they are experiencing related to downtown. Attendees shared concerns and ideas for moving forward during the facilitated discussions to inform the building of a community-based action plan.  
Today, the Task Force is sharing initial findings from the working sessions. Feedback was grouped into four major themes: 
Promotion, Activation, and Programming

Access to Downtown

Barriers to Doing Business 

Growing Downtown 
Patrick Seeb, executive director of Destination Medical Center, shares, "The Task Force felt it was important to share the initial findings with the community before moving into the next phase of work. Each piece of information was analyzed and synthesized carefully. The themes identified will help our community prioritize the next steps in the process." 
Community members are asked to review the initial findings report and provide feedback via a short survey. In April, working sessions will be organized around the four themes to identify immediate and short-term action recommendations. These working sessions will again be open to the public 
"The model we are using to create the action plan is different from others. Our seven organizations are working collectively with the community to build a recovery plan," says Seeb. "The challenges that the pandemic caused downtowns can be complex and takes more than one organization to solve." 
The Downtown Rochester Task Force is using an accelerated model in creating an action plan, which will allow participants to identify concerns and work on solutions quickly. The goal is to present an action plan by mid-May 2023 to guide the Downtown Rochester Task Force moving forward.  
The Downtown Rochester Task Force includes members from the City of Rochester, Destination Medical Center, Experience Rochester, Mayo Clinic, Rochester Area Chamber of Commerce, Rochester Area Economic Development Agency, Inc., and Rochester Downtown Alliance.    
Click here to view the Initial Findings Report.