When Florida native Francisco Corripio started coming to Rochester for medical treatment six years ago, opening a restaurant was the furthest thing from the long-time banker's mind.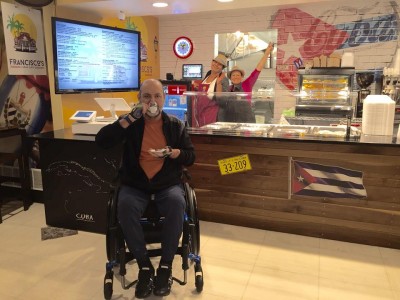 When Corripio learned that his medical treatment would be more extensive, he and his wife relocated to Rochester permanently. Last year, Corripio, along with members of his family, opened Francisco's Cuban Café in the First Avenue Food Court on the skyway level of the 100 First Avenue Building in the Heart of the City. For Corripio, the café, which serves everything from fried plantains to Cuban sandwiches, was both a business venture and a personal necessity.
"Myself, being Cuban, the first thing I would do when I flew into Miami, was get some Cuban coffee," Corripio told DMC in an interview. "And the last thing I would do before leaving for Rochester was get some Cuban coffee. My stays here in Rochester were minus Cuban coffee."
Now, Corripio gets all the Cuban coffee he wants.
Corripio sat down with DMC to talk about what it's like to open a restaurant in Rochester, and his plans to expand to the 2nd Street Corridor in the St. Marys Place sub-district.
DMC: When did you start coming to Rochester?
Corripio: We had been coming back and forth for medical treatment from Coral Gables (near Miami) since 2010. In 2014, we found out that my medical treatment would need to be extensive, so after living in a hotel for seven months, we decided to buy a condo. We had also been here a couple of winters, so we knew what we were getting into.
DMC: Why did you open a restaurant even though you had no restaurant experience?
Corripio: Being here on a full-time basis, we started to see more and more restaurants open, most of them very good. One thing stood out to me: there was no Cuban food here. I would see a Cuban sandwich on a menu here – it's not that it didn't taste good, it's just not a Cuban sandwich. We realized Rochester doesn't know what Cuban food is, so we started getting into the idea of putting a Cuban restaurant together.
We convinced our eldest daughter, who owns a restaurant in Jamaica, to move here [and run the restaurant]. The cold had been keeping her away.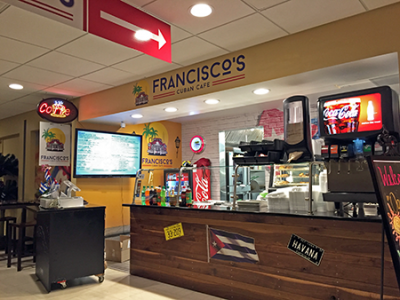 DMC: There are many places to open a restaurant in Rochester, so why did you choose the skyway downtown?
Corripio: We wanted to target the lunch crowd. But we had also learned by experience that winter isn't just a month or two. We noticed that everyone travels in subway and skyway, so we felt it was an ideal place to be for business. Patients at first don't realize there is food beyond the cafeteria, but they slowly start exploring downtown Rochester. We get a big mix of locals and patients.
DMC: What has it been like to open a restaurant in Rochester?
Corripio: Just owning a restaurant has been a learning process. It's been well-received by the people in Rochester, the media, and the community. We've come across a lot of Cuban people and a lot of people from Miami. We've gotten a big warm welcome from them.
We've enjoyed our time immensely in Rochester, and we feel like we are already part of the town. That's because the people from Rochester are outstanding. The human factor is still here.
DMC: Any plans to expand?
Corripio: We're encouraged by the DMC initiative. We've purchased another building in the DMC district and are in the process of designing the building so that we can get another restaurant – more of a sit-down feel to it. I've seen some of the [DMC] plans and figured that's the way to go.