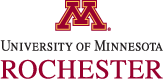 When the University of Minnesota Rochester (UMR) opened its doors nearly ten years ago, it created a truly one-of-a-kind learning experience. Hands-on engagement with some of the top medical professionals in the world has allowed students to play a key role in the ever-changing world of healthcare. Having students in the Heart of the City has brought a vibrant energy to the community.
UMR is an anchor in the DMC Development Plan for the Recreation District and lies adjacent to Discovery Square. These sub-districts will drive the future of biomedical, research, education, and technology innovation in both the region and the state.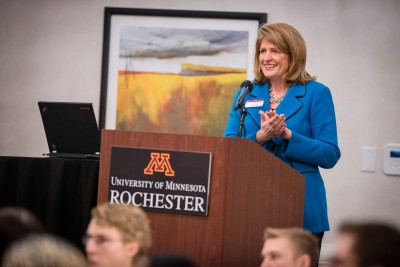 Dr. Lori Carrell is UMR's Vice Chancellor for Academic Affairs and Student Development. Together with the leadership at UMR, Dr. Carrell is working to leverage the assets of America's City for Health – from buildings and infrastructure to relationships and knowledge – to enhance learning and development of UMR's students. DMC sat down with Dr. Carrell to reflect on her time at UMR so far.
DMC: I understand you came to Rochester almost two years ago, Dr. Carrell. What was the initial draw to this community?
Carrell: What originally attracted me to UMR were the things the institution already had in place – UMR's structure, its integrated learning model, the high-impact practices like capstones and learning communities – they drew me like a magnetic force. These things are being done in other institutions across the country but often only for pilot student groups or for honor students. At UMR, these deeper approaches to learning had been implemented for every single student.
DMC: Since you've arrived, many changes have taken place at UMR. How have you seen the institution develop over the past couple of years?
Carrell: Any new university like UMR is an unusual university. We don't see many young higher education institutions – especially in this region. We've been fortunate at UMR in that we've been able to gather information and learn from the first three successful graduating classes – both while they were here and since they've left. They have helped us make strategic decisions about future of education here. Through our faculty's research on student learning, we've been able to explore the connection between learning and development, specifically the impact of resilience on student success. When we admit students to UMR, we are looking at them holistically, not just based on their grades or their GPA. It is more than just those numbers that will determine their success here.
DMC: You recently hosted a Health Care Scholars Day to determine which admitted students should receive scholarships. What prompted this unique approach to distributing financial assistance?
Carrell: We recognize that many students who apply to UMR are so passionate about health care that they are not considering any other career options, and, more often than not, there are personal stories and experiences that lead them down this path. In addition to having the academic competencies needed for admittance to UMR, we wanted to hear those stories, the special circumstances they've experienced, the resiliency they've shown.
DMC: No doubt that selection process was a difficult and emotional one.
Carrell: It was very painful. There were many students ready to study at UMR who had both incredible stories and perseverance that we were not able to bring to campus to interview. We are very grateful to have donors in this community who understand the importance of investing in our local healthcare workforce, but our scholarship opportunities are still limited.
DMC: UMR has reported an increase in student applications and enrollment recently. What's changed to prompt that upturn?
Carrell: Enrolled students at UMR have the benefit of highly personalized relationships with faculty and staff. We've extended this approach to our recruitment process. By developing relationships with prospective students and helping them to understand exactly what they will experience at UMR, we are better able to ensure their success when they arrive. We want students who will be innovators in health care. That is the ultimate goal. We want students who will not only address the grand challenges in healthcare but solve them.
DMC: DMC and UMR recognize the importance of delivering the highest quality educational experience for students while capitalizing on the existing assets of our region. How do you see this collaboration continuing to grow as the DMC and UMR visions move forward?
Carrell: We find ourselves an integral part of the DMC endeavor, certainly as it comes to physical planning and how UMR will intersect with the grander plan for Rochester. We will continue to explore ways in which we can work together through partnership and through utilization of space. We are enthused about what will emerge. There exists such a strong reciprocal relationship between the Rochester community and UMR – the community itself was the catalyst for bringing UMR here.