Rochester Home Infusion (RHI) serves a unique niche in the pharmacy market, providing individually compounded medicines to patients with ongoing intravenous (IV) therapy needs, but who are well enough to go home.
RHI is also unique in that it is one of the earliest medical businesses that chose to set its roots in downtown Rochester specifically because of DMC's vision to coin Rochester as America's City for Health.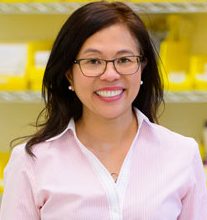 "We provide patients with IV medications in the comfort of their own homes," Joselyn Raymundo, founder and president of Rochester Home Infusion (RHI), tells Destination Medical Center (DMC) in an interview.
Home infusion has been around since the 1980s. It is safe, effective, and, according to Raymundo, preferred by most patients. "People tend to recover faster when they are at home with the support of their loved ones. And going home allows them to return to work or school and resume their normal lives" she says.
Rochester Home Infusion serves patients throughout the Midwest who require long-term IV medications for chronic infections, immune deficiencies, end of life management, and more.
Raymundo sat down with DMC to talk about how RHI's services empower the patient – and how DMC was the tipping point that led her to open the business in Rochester.
DMC: You're not a Rochester native. What prompted you to open your business here?
Raymundo: I have been in the home infusion business for the last 15 years. I formed a home infusion in the Twin Cities for a local hospital and was with them for 10 years. After that, I ran a multi-state specialty and home infusion pharmacy business for a national company doing $100M revenue per year and we were very successful. However, my passion in providing high quality patient care led me to form my own home infusion business. I began exploring options as to where that business should be and discovered that, unlike most destination medical centers across the nation, there was not a single local home infusion company in Rochester.
One night, I stumbled upon the DMC website. I was intrigued to read about the city's plans to grow Rochester into a stronger destination for medical care. Most destination medical centers are served by multiple local home infusion providers, so I was surprised to discover that Rochester and Southern Minnesota is an underserved market and that I could play a major role in meeting the unmet needs of patients for home infusion. That was the day that I knew we had to start our business in Rochester.
In addition, Mayo Clinic is known worldwide for delivering the highest standard of care – my aim is to extend the same excellence in care to the home setting. I had previously worked with a number of Mayo Clinic physicians on some very complex therapies, which convinced me that there was a need not just for a local provider, but for a best-in-class home infusion pharmacy, staffed by real clinicians, that could live up to Mayo's standards.
DMC: Why is being a local business important for home infusion? How does it affect the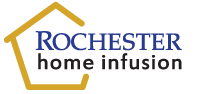 patient experience?  
Raymundo: Home infusion is a fundamentally local business that exists to support medical institutions. Hospitals like Mayo Clinic, and destination medical centers in general, attract patients both nationally and internationally. Patients who come to DMCs eventually return home, often with ongoing medical therapy needs. Being local allows us to serve patients more efficiently when they leave the hospital, but also to collaborate more closely with providers to create a seamless transition from hospital to home. We aspire to extend excellence in care from hospital to home and deliver the best possible outcome and experience to all of our patients.
It has been shown many times that patients really tend to remember their final part of any medical experience most strongly – whether good or bad. By ensuring that patients have a good experience as they transition home, we help cement the overall medical experience in Rochester as a positive one.
DMC: What has your experience been like growing a new business in this community? 
Raymundo: We feel very lucky to be a part of the Rochester community and to contribute to the DMC vision. The business leaders in the community, as well as medical executives, have been very welcoming. Our greatest challenge is creating awareness among the front line workers, helping them to recognize the benefits of working with a local home infusion pharmacy, and ensuring that patients are ultimately the ones making the choice about who provides their care after discharge.
DMC: From our research, you are one of only three businesses in Minnesota that is woman-, minority-, and veteran-owned. That's a pretty unique status to hold.
Raymundo: True. We are very proud to contribute to the diversity of the business ecosystem in Rochester. We may be one of the few businesses that can check all those boxes, but we have not received any special preferences or access. Rochester Home Infusion is 100% self-financed. What we – and all businesses – ask for is a level playing field, so we can serve our patients and thrive here in Rochester, while giving back to the community.
—
Joselyn Raymundo will present during the DMC breakout sessions at the Rochester Area Chamber of Commerce Supplier Diversity Summit on Wednesday, August 3. For more information or to register for the event, please click here.